This week's Meet a Mom is me!  Illana Lebersfeld.  I'm the mom behind Essex County Moms!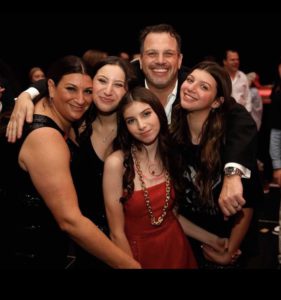 Introduce Yourself!  (Name, What Essex County Town you live in etc.)
Hi!  I'm Illana Lebersfeld and I live in Short Hills.
Kids?  How many?  Ages?
I have 3 beautiful and amazing girls ages, 17 (almost 18!), 14 (almost 15!) and 13!
And a dog named Stanley who is almost 3!
Where are you from originally and how long have you lived in Essex County?
I grew up in Short Hills (my husband did also) and after a few years of living in the city after college, we moved to West Orange for 5 years and then back to Short Hills.
Are you involved in a business venture, a local organization, a creative endeavor, or in the corporate world? Please share!
I am the mom behind Essex County Moms!  I also work at a camp store called Camp Stuff 4 Less and love it!
Favorite things to do in town/Essex County?
We are huge NJ Devils fans and season ticket holders so having The Prudential Center right here in Essex County is great!
I also love to shop and eat locally!
Best advice you have gotten?
I know it's an oldie but…"Don't Sweat The Small Stuff!"  My dad used to and still reminds me of this!  It's so true.
What Song Puts You In a Good Mood?
Don't Stop Believin' by Journey (I love good 80's music!)
Favorite Piece of Clothing?
My Nike sneakers and worn out hoodies!
Best Show/Series You Are Currently Watching or Just Watched?
The Great (about Katherine The Great)
And Just Like That (Sex in The City)
Sex Lives of College Girls (Hilarious)
Favorite Book You've Read in the Last Few Years?
I'm an avid reader of romance books!  I just finished The Summer Proposal by Vi Keeland and liked it a lot!
What Are Your Parenting Goals?
For my kids to be happy.  Especially in these crazy times!
We love supporting local businesses. Can you please share your favorite places in your area!
Dinner: Nero's (Livingston)
Family Fun: New Jersey Devils Game at The Prudential Center (Newark)
Work Out: Fitness by Heidi Heath (Millburn) and Tennis (Union County!)
Hair: Color: Tracy at D'ieci (Livingston), Cut: Alyssa Messina at Pretty Moon Salon (Verona)
Nails: Julie at New Polished (Livingston)
Shopping: Capitol Lighting, Camp Stuff 4 Less, The Mall at Short Hills, Pink Jewels, 4 Fashions Clothing,
Favorite Coffee: Dunkin' Donuts
Thank you for letting me reintroduce myself.  Please visit my website at www.essexcountymoms.com as well as my Facebook Page: Essex County Moms and my Instagram: @essexcountymoms.  If you are an Essex County business and would like to be a part of Essex County Moms please reach out to me at: [email protected]!