Registration is now open for YWCamp@Mahwah! Located at 200 Midvale Mountain Road Mahwah, NJ NEW! Bus stop location at Verona (Our Lady of the Lake School) Camp is open to children ages 5 - 12 and includes: FREE Daily Swim Archery, Boating, Creative Expressions STEM...
Want to wow your family for the Jewish New Year? This Fig & Pomegranate Brisket is the perfect way to please a crowd and honor tradition during Rosh Hashanah.
Celebrated cookbook author Adeena Sussman calls this meal one of the "crown jewels of Shabbat and holiday cooking" and we couldn't agree more. There's great reason to trust her, having recently published Shabbat: Recipes and Rituals From My Table To Yours and co-authored more than a dozen more cookbooks, including three New York Times bestsellers with Chrissy Teigen.
While mastering brisket can seem intimidating, Adeena suggest giving this sometimes under-appreciated cut of meat some extra time.  "[I like] slow-cooking brisket to tender perfection, adding onions and often a tomato-based liquid to coax out the meat's flavor and ideal texture."
Leftovers taste even better, says Adeena: "Cool the whole cut in its braising liquid, then slice it against the grain and re-warm gently in the sauce."  Ready to try this modern spin on brisket? Recipe below:
Ingredients
One 5-pound brisket with a good amount of fat1 tablespoon plus 1 teaspoon kosher salt, plus more for seasoning1 1/2 teaspoons freshly ground black pepper, plus more for seasoning1/4 cup vegetable oil 3 large onions, thinly sliced (6 cups)2 tablespoons all-purpose or gluten-free flour10 garlic cloves, peeled and left whole2 tablespoons tomato paste2 cups dry white wine1 1/2 cups beef or chicken broth1/3 cup pomegranate molasses4 dried figs, chopped1/4 cup honey1 1/2 teaspoons red wine vinegar1 tablespoon ground cumin1 teaspoon dried red pepper flakes6 fresh figs,* quartered1/2 cup pomegranate seedsMint leaves, for garnish
Directions
Preheat the oven to 300°F
Arrange the brisket on a large plate and season it generously on all sides with 1 tablespoon of the salt and 1 teaspoon of the pepper. In a large, heavy Dutch oven, heat the oil over medium- high heat until very hot but not smoking. Add the brisket (fattier side down, if there is one) and sear until deeply browned and crisped in parts, 6 to 7 minutes. Carefully flip the brisket and sear for another 6 minutes, then, if they're thick enough, sear each of the narrow sides, standing up the brisket, if possible, 3 minutes per side. Remove to a plate, leaving any fat and juices in the pan.
Add the onions and flour and cook, stirring occasionally, until the flour is absorbed, 1 minutes, then add the garlic and tomato paste and cook, stirring occasionally, until the onions begin to soften, 5 minutes. Add the wine, raise the heat to high, bring to a boil, then turn down the heat and simmer until the wine reduces by half, 4 to 5 minutes. Add the broth, pomegranate molasses, dried figs, honey, vinegar, cumin, red pepper flakes, and the remaining 1 teaspoonsalt and ½ teaspoon black pepper.
Bring to a boil over high heat, then reduce the heat to a simmer and gently lower the brisket back into the roasting pan, spooning some of the sauce and onions over the brisket. Cover the brisket with a piece of parchment paper (this will prevent the acid in the sauce from interacting with the foil), seal the roasting pan tightly with foil, and cook in the oven until the brisket is tender, 4 hours to 4 hours 30 minutes. Remove the oven, unseal slightly, then let the brisket come to room temperature, about 1 hour
If you have time, refrigerate the brisket overnight, then uncover it and remove and discard the congealed fat. Remove the brisket from the sauce and slice it against the grain into 1/4-inch-thick slices. Heat the sauce in the roasting pan or another pot over medium-high heat, until boiling. Lower the heat and simmer until the sauce thickens to your liking, 10 to 15 minutes. Nestle the sliced brisket back in the sauce, cover with foil, and warm gently in a 200degreeF oven until everything is heated through, 45 minutes to 1 hour.
To serve, transfer the brisket and sauce to a platter, season with salt and pepper, and garnish with fresh figs, pomegranate seeds, and mint leaves.*If you can't find fresh figs, garnish with more pomegranate seeds.
From SHABBAT by Adeena Sussman, published by Avery, an imprint of Penguin Publishing Group, a division of Penguin Random House, LLC.
Copyright @ 2023 by Adeena Sussman.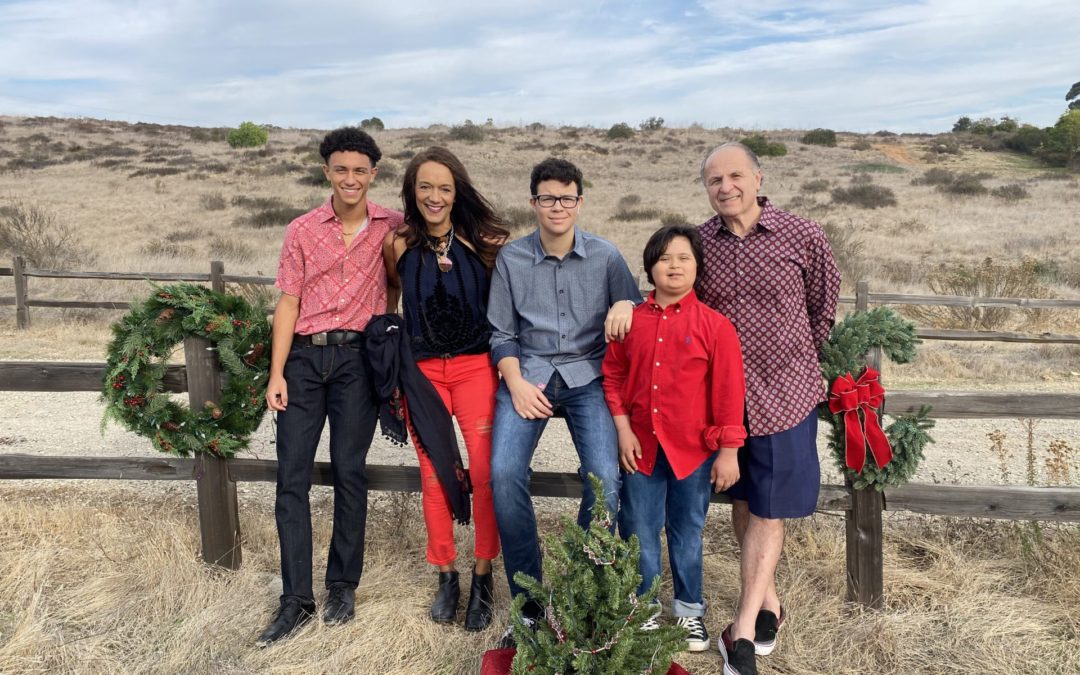 This #boymom of three shares her experience parenting a child with Down syndrome, launching a book series and more!